Boiler-Companies.com Boiler Maintenance Guide
A boiler is a heat manufacturing product that uses water or another liquid to produce heat that is either used in production by manufacturers or in heating a home or a large building. Many older buildings use boilers rather than central heating systems because a boiler is often less expensive to operate. However, boilers that are several decades old may have a variety of different problems associated with them. If you carefully maintain your boiler, though, you can have efficient heating for a very long time without incurring exorbitant repair costs or causing any safety issues in your building or your manufacturing plant. There are a few easy tips to learn when you need to maintain a boiler. This boiler maintenance guide will provide you with these tips so that you can keep your boiler running smoothly when it is needed.
Avoiding Reactive Boiler Maintenance
A common strategy when it comes to boiler maintenance is also one of the worst maintenance strategies for any expensive piece of equipment: reactive maintenance. Reactive maintenance is a term commonly applied to maintenance that only occurs after a problem has already happened. In other words, if you never maintain your boiler when it is operating correctly and instead wait for something to break or stop working on your boiler in order to fix the problem, you are using a reactive boiler maintenance strategy. Not only is this strategy more expensive, but it can also be quite dangerous. Reactive maintenance on your boiler is much more expensive than proactive maintenance. When a part on a boiler breaks, the excess heat or steam build up can cause other parts to be damaged. This can result in added repair costs that you will have to incur. Boiler maintenance that is only performed after a problem occurs can also cause injury or safety issues. Boilers heat liquid to very high temperatures, and if a boiler should break or leak, anyone in the vicinity may be burned or injured.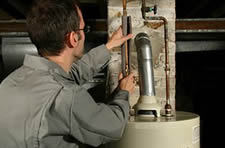 The Importance of Proactive Boiler Maintenance
To avoid the added expense and personal risk associated with reactive boiler maintenance, individuals with boilers should use a proactive boiler maintenance strategy. Proactive maintenance requires regular assessments of the dials and displays on a boiler so that you will know if something is out of the ordinary. Readings that are drastically different or not functioning properly may be evidence that your boiler is experiencing the beginning of a problem that should be addressed. Also, most boilers should be examined by maintenance professionals once every year. For schools or business offices that use a boiler for heating, the perfect time to perform this system maintenance is either during the spring when the boiler is put to rest or in the early fall months before the boiler is used for heating. If the boiler breaks down during the winter, your building may have to go without heat for an extended period of time.
Taking Daily Readings
One important step in proactive boiler maintenance is taking daily readings of the various dials and systems information on your boiler. You should regularly evaluate the water level, the temperature of the flue gas, the gas level, and the oil level and temperature. Any temperature or level that seems to be out of the ordinary should be immediately reported. Accurate data logs should be kept in a safe and reliable place so the performance of the boiler can be evaluated next to its previous performance.
Hiring Professionals and Securing Professional Parts
Another important aspect to proper boiler maintenance is hiring the best and using the best when replacing parts or performing any type of service on your boiler. You may hope to save a few bucks by hiring a repairman with minimal experience with boilers or a repairman who uses subpar equipment and replacement parts. However, you will most likely pay for these price cuts in the long run when the repair is faultily performed or the parts fail to work correctly resulting in further damage. Even though it may be tempting to hire inexpensive maintenance individuals to get your boiler up and running, spending a little extra money in the present will save you from spending a fortune in the future.